Making Choice Happen: Delivering quality end of life care to make choice a reality for everyone
Thursday, 15th October
The Waldorf Hilton Hotel, Aldwych, London, WC2B 4DD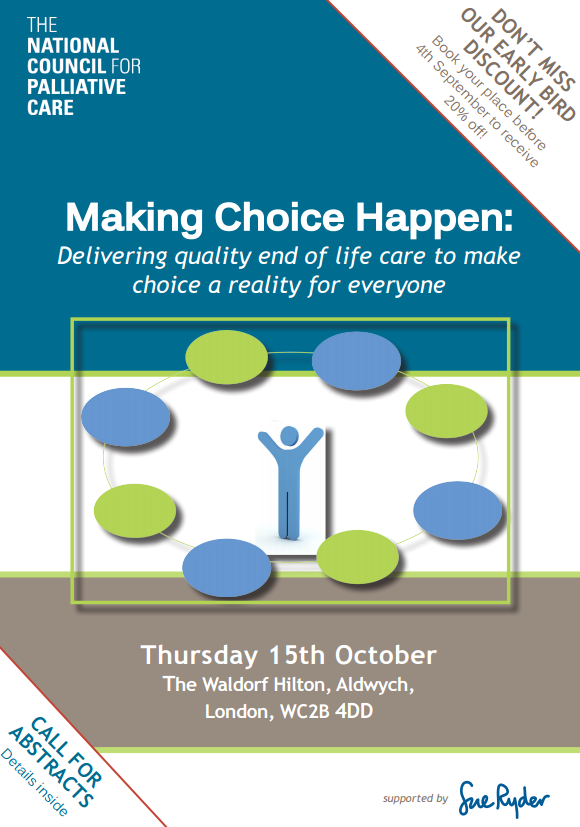 It is widely acknowledged that choice is important to individuals and those close to them when approaching the end of life. However too many people still do not receive good quality care which meets their individual needs and wishes. The recent independent review 'What's important to me: a review of choice in end of life care' sets out the actions required to enable choice, as more needs to be done to make this a reality for everyone. If you are passionate about end of life care and want to make choice a reality, then this is the conference for you.
The event will bring together experts from across health and social care, to share ideas and approaches to supporting the delivery of choice for individuals and their carers. Delegates will hear from people who have set up innovative services and learn from their experience, as well as from people with personal experiences of choice in end of life care.
This conference will...
Showcase new approaches to delivery of choice for people at the end of life

Hear about collaborations between health and care services

Use workshops to share innovative good practice from around the country

Highlight the power of partnership working to improve services

Provide a valuable forum for people in all care settings who care and support people at the end of life to share ideas and make new connections
Who should attend
Commissioners, including leaders of CCGs and Health & Well Being Boards, NHS Trusts, social care and primary care organisations

Voluntary and independent sector staff

Health and social care staff in acute and community services

People managing and working in palliative and end of life care services

General Practitioners, community and district nurses

Health and social care chaplains

People with personal experience of end of life care and carers
Expert speakers include
- Ben Gummer, Parliamentary Under-Secretary of State for Health for Care Quality
- Dr David Brooks, Macmillan Consultant in Palliative Medicine, Chesterfield Royal Hospital
- Professor Julia Verne, Head of Clinical Epidemiology and Clinical Lead - National End of Life Care Intelligence Network, Public Health England
- Professor Rob George, Medical Director, St Christophers' Hospice; Professor Palliative Care, Cicely Saunders Institute, KCL; President, Association
- Dr Gemima Fitzgerald, Clinical Psychologist, & Kay McConville, Heath Centre Manager, The Rowans Hospice
- Annmarie Casey, Specialist Palliative Community Nurse, Foyle Hospice, Northern Ireland
- Jen Kenward, Head of Patient Experience, Community, Primary & Integrated Care, Nursing Directorate, NHS England
- A panel with people with personal experience
- And more.....
Event Workshops:
Please note that the below workshops take place once between 11.40 - 12.40 and again between 13.40 - 14.40.
Workshop A: Cost of delivering choice
Simon Jones, Director of Policy and Public Affairs, Marie Curie
Workshop B: Commissioning for choice
Paul Hayes, End of Life Programme Lead, Northamptonshire Healthcare NHS Foundation Trust
Workshop C: Using technology to deliver choice
Claire Pearson, VitruCare Project Manager, Sue Ryder
Workshop D: Having meaningful conversations to support choice
Jo Wilson, Macmillan Consultant Nurse Practitioner, Frimley Health Foundation Trust
Registration
Registration is now closed.