How would I know? What can I do?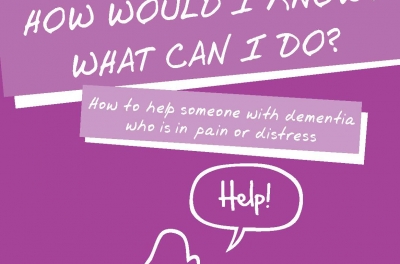 'How would I know' offers a range of top tips to help carers and health and care professionals identify whether someone with dementia may be in pain or distress, advice on what may be causing this and a range of possible solutions. It follows on from NCPC's 2011 publication, Difficult Conversations for dementia, which provides advice on how to talk to people with dementia about their end of life wishes.
More than 35 million people worldwide and 670,000 people in England have dementia, with the number expected to double in the next 30 years. An estimated twenty one million people in our country know a close friend or family member with dementia. One in three people aged over 65 will have dementia by the time they die. And as life expectancy increases, more and more people will be affected.
Simon Chapman, Director of Policy and Parliamentary Affairs at the National Council for Palliative Care said:
"When people with advanced dementia experience pain or distress they may behave in ways that people caring for them find difficult to cope with, and also find it hard to say what is troubling them. This is why it is so important to know how to spot signs of pain or distress and what can be done to help them. With almost half of us having a close friend or family member with dementia we really hope that this new guide provides valuable assistance."
Alistair Burns, the National Clinical Director for Dementia said:
"Too often pain or distress in people with dementia may be overlooked or viewed as an unavoidable part of their illness rather than something that can be alleviated. This excellent new guide from the National Council for Palliative Care will be incredibly helpful in helping people to better understand the realities of living with and caring for somebody with dementia".
Hard copies are be available to buy from shop.ncpc.org.uk
You can download the booklet free of charge here*.
*Please note some Firefox users have reported problems when trying to view this pdf. If this is the case please try another browser such as Chrome or Internet Explorer, or download the document to your computer and view using Adobe Reader.
Share your story
A central part of NCPC's work is listening to what people with personal experience of palliative and end of life care have to say. Please help us by sharing your story.