Funding
The Government has a commitment to funding palliative care but there is still no agreed mechanism for funding it in the UK. Much of palliative and end of life care is provided by hospices based in the voluntary sector. The level of statutory funding they receive varies significantly.
Funding in England
The End of Life Care Strategy
When the End of Life Care Strategy for England (2008) was published the then government announced that it would be supported by additional spending of £286m in 2009-10 and 2010-11.
In order to see whether this additional money was reaching frontline services, NCPC has undertaken two national surveys:
Survey of PCTs and providers (2009)

NCPC carried out a survey of SHAs, PCTs and providers between December 2009 and January 2010.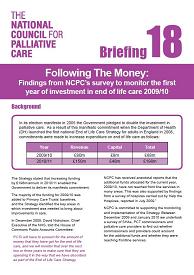 We found that 35% of responding PCTs were unable to identify the amount they marked for end of life care in 2009/10. Many providers also reported fears that resources were being cut.
You can read more about the results of the survey in 'Briefing 18 - Following the Money: Findings from NCPC's survey to monitor the first year of investment in end of life care 2009/10'.
A free hardcopy of this publication was sent to subscribers when it was published and electronic copies can be downloaded from the library
Survey of providers (2010)

A year on NCPC carried out a second survey jointly with Help the Hospices. Despite £150M of revenue funding being due to be distributed to support the implementation of the Strategy in 2010/11:
A third of all respondents were aware of care staff cuts in local palliative and end of life care services.
Nearly 30% of hospices (voluntary sector and NHS) have already had their statutory funding cut in the current year.
30% of all respondents anticipate a decrease in their statutory funding in 2011/12.
A full briefing can be downloaded in the resources for this page.
Palliative Care Funding Review
An independent Palliative Care Funding Review was launched by the government in July 2010 and gave final recommendations in July 2011. It was chaired by Tom Hughes-Hallett, Chair of the End of Life Care Implementation Advisory Board and CEO of Marie Curie Cancer Care.
There was two stages to the review. Firstly, to offer a definition of 'dedicated palliative care services', as put forward in the interim report published December 2010. Secondly, to make recommendations on a proposed mechanism for funding the services including in the definition, as published in the final report in July 2011.
NCPC submitted an initial response to the review in October 2010. The NCPC Cancer Group augmented this response in March 2011 with a further submission highlighting the need to incorporate rehabilitation as a core component of dedicated palliative care and within the final definition of dedicated palliative care.
The final report can be viewed here.
Our response to the final report can be found here.
Piloting stage
The Department of Health is now piloting the new funding mechanism proposed by the Review team in eight sites (seven adult sites, one childrens site), with an investment of £3.6m. Further detail can be found here.
Funding of long-term care
NCPC responded to the Dilnot Commission on Funding of Care and Support set up by the government in summer 2010 and reported in July 2011.
Our response to the Commission's final report can be found here.
Our submission during the evidence gathering phase can be downloaded from the resources. It urged the Commission to:
1. Take full account of end of life care and in particular:
The predicted rise in numbers of people dying each year
Demographic and epidemiological trends including the rising numbers of older people living with multiple conditions including many with dementia
Rising need and demand for end of life care
The impact of the implementation of initiatives such as the End of Life Care Strategy (2008)
2. Ensure that funding enables everybody to have access to a single assessment and a care co-ordinator
3. Take account of the work of the Palliative Care Funding Review, and the current pilots of personal health and social care budgets.
We were pleased that the final report said that
For those reaching the end of their life, we think that there should be better integrated health and social care services, and that there is a strong case for these being free at the point of need. At this time, the last thing that individuals and families need is arguments over who funds care, and where care is provided. Given this, the Commission is broadly supportive of the direction of travel being taken by the independent Palliative Care Funding Review, which is looking into the funding of end-of-life care
- p. 59 The Report of the Commission on Funding of Care and Support
Following sustained campaigning by NCPC, Help the Hospices, Marie Curie Cancer Care, Macmillan Cancer Support, Motor Neurone Association and Sue Ryder, the Government commented in July 2012 that there was "much merit in providing free health and social care in a fully integrated service at the end of life" and committed to costing the proposal as part of the Palliative Care Funding Review pilots. The commitment was part of the much anticipated care and support White Paper – read the section on end of life care here.
Funding in Wales
The Welsh Assembly is working to implement the recommendations from the Palliative Care Planning Group Report (the 'Sugar Report') published in 2008. There was £4million of central funding to support implementation in 2009/10. This was increased to £6.888 million for 2010/11.